11 Unique Ideas For The Best Halloween Wedding
A Halloween wedding does not have to be spooky, but it can still be deliciously ghoulish! Check out some of the best ideas that will be with you, til death.
When it comes to planning your wedding, why not add a touch of Halloween to the mix? Here are some ideas to get you started.
See Also
---
---
Serve up some spooky food and drinks
Consider having a themed buffet with items like black spaghetti, eyeball punch, and witch's fingers (breadsticks topped with black olive "fingers").
Decorate your venue
Decorate with autumnal leaves, pumpkins, and other Halloween-themed props. You could even go all out and have a haunted house-style setting!
Colors Scheme
Choose a dark or gothic color scheme for your wedding decorations and outfits. Black, purple, and deep green are all great options for creating an eerie atmosphere.
Wedding Favors
Have fun with your wedding favors! How about giving out mini bottles of blood or vampire teeth as party favors for your guests.
Spooky Surprises
Make sure to have a few spooky surprises in store for your guests. Maybe you could have a fortune teller or magician on hand to entertain them or organize a themed photobooth for them to snap some Halloween-themed selfies in!
Check out these Halloween wedding ideas, everything from invitations to cake cutters!
1. Halloween Bachelorette Party Invitation
This Halloween wedding bachelorette party invitation will set the mood for a glorious night on the town full of mischief.
2. Halloween wedding guest book
A great alternative to a traditional wedding, this Halloween wedding guest book is perfect for this theme.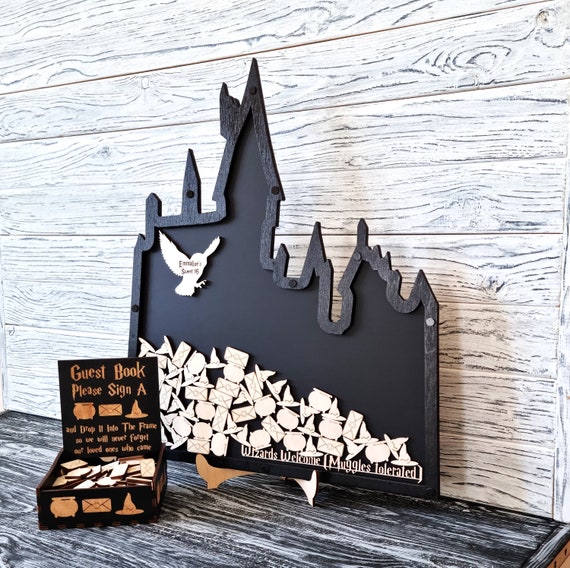 3. Adams Family cake topper
Oh, you found your Gomez! Celebrate with this Halloween wedding cake topper featuring the happy couple.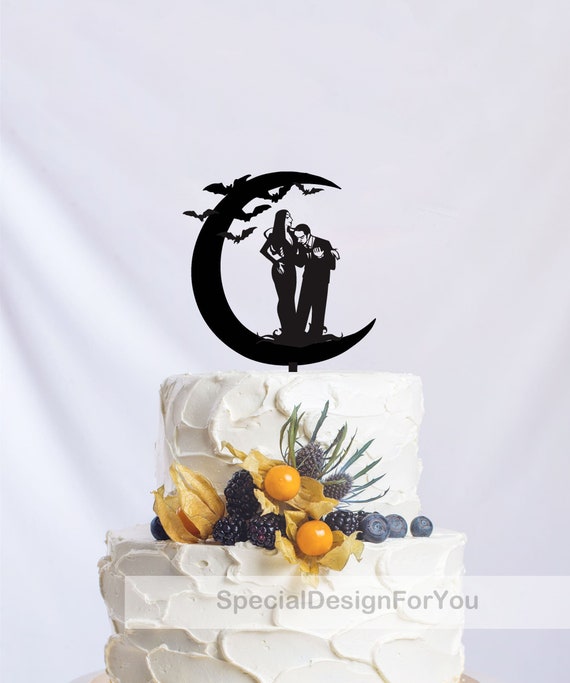 4. Black and orange Halloween personalized wedding champagne glasses
Personalized Halloween wedding glasses with unity candle and more. Get what you need with this loaded set with the traditional black and orange.
Find more bride and groom toasting wedding glasses ideas for a variety of personalization.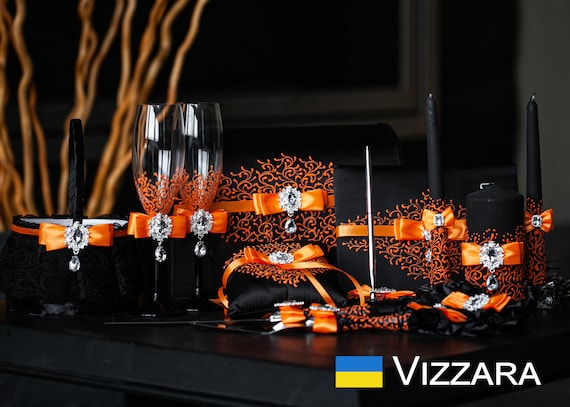 5. Halloween save the date cards
Tell the world with these Halloween save the date cards. Personalized with your engagement photos and your own custom information.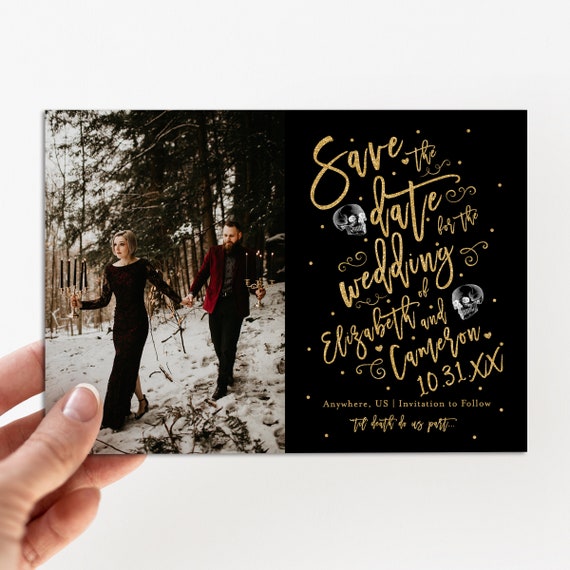 6. Halloween Wedding Arch
This set of 112 balloons is themed perfectly for your Halloween wedding arch!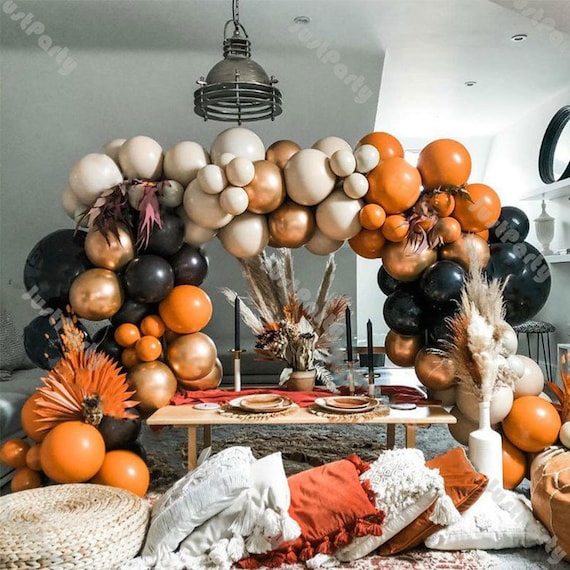 7. Halloween wedding welcome sign
Let the guests know you appreciate them and welcome them into the party with this Halloween wedding welcome sign.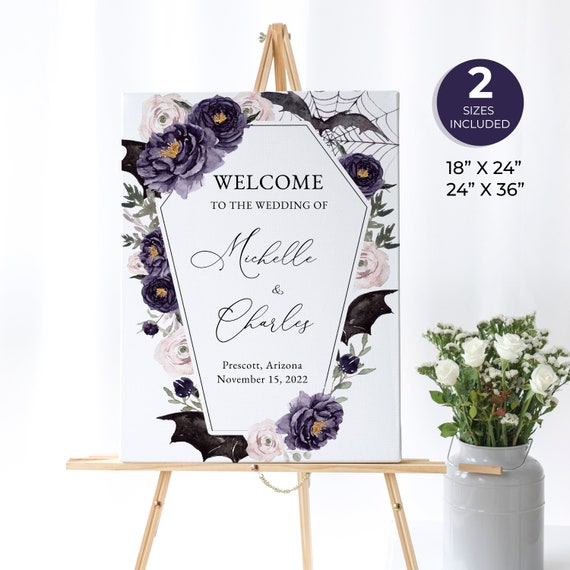 8. Halloween centerpiece
This black and white Halloween wedding table setting reminds us a little of Beetlejuice.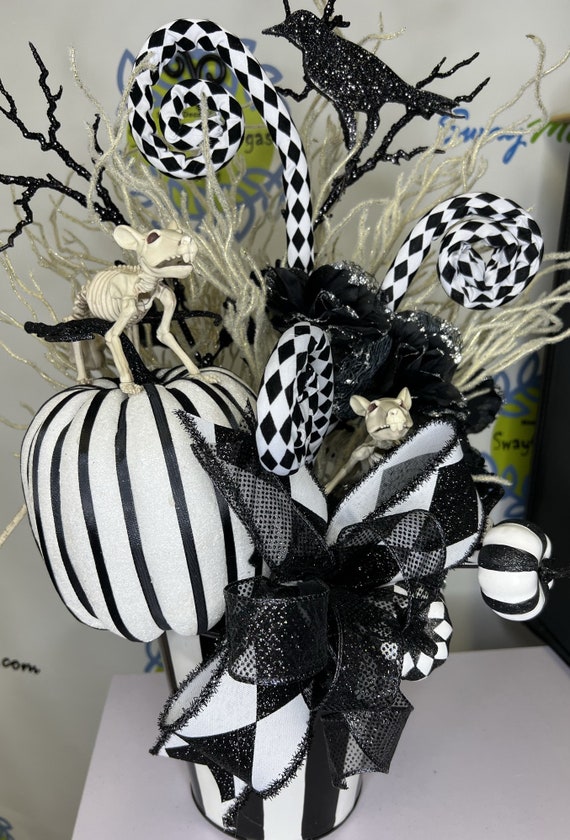 9. Halloween gold skeleton wedding band ring set
These Halloween wedding bands are made of silicone and will be perfect for your undying love and commitment.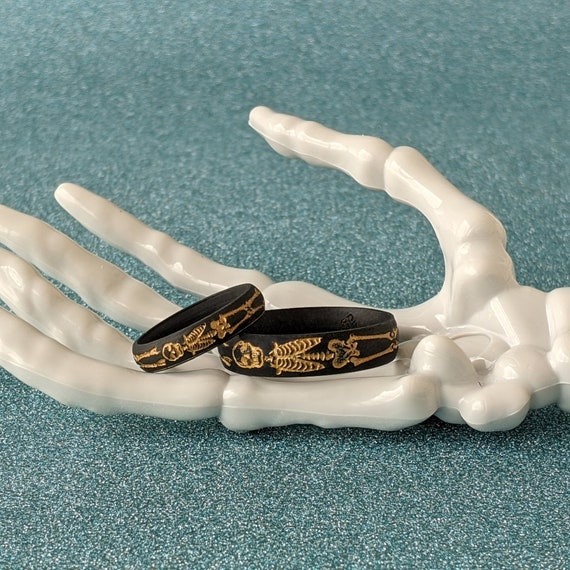 10. Halloween wedding cake knife set
Great quality, these Halloween wedding cake server sets will be an excellent addition to your spooky wedding table settings.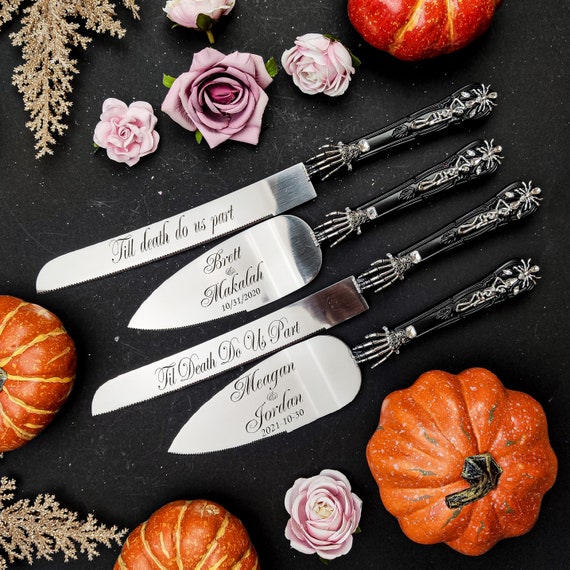 11. Halloween-themed wedding dress
Set the mood, and leave them all awestruck, this Halloween-themed wedding dress will send chills down their spines.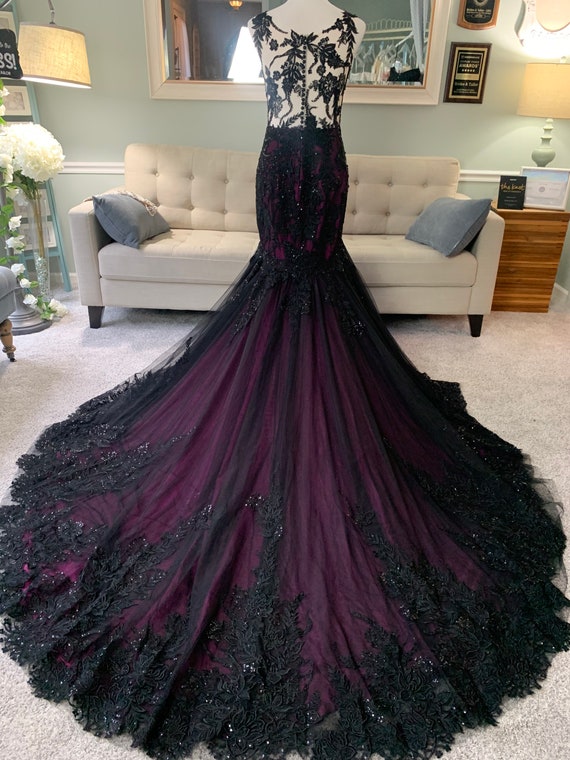 With Halloween weddings becoming more and more popular every year. If you're thinking of having a Halloween wedding, we know that the ideas we've shared will get you started.