9 Bachelorette Wig Party Ideas
Bring the party to life with a bachelorette wig party. Party wigs are a fun way to add some excitement to the last night before the bride-to-be gets married.
See Also
---
---
What is a wig party?
A bachelorette wig party theme is a gathering of friends, who don fun wigs and enjoy each other's company.
It's a great way to celebrate a special occasion like a bachelorette party! But really, any excuse to get together and have some fun is a good enough reason to host a wig party. The best part about a wig party is that you can be as outrageous or as low-key as you want. Whether you prefer to dress up or dress down, there's a wig out there for you.
They are usually organized and hosted by the MOH (maid of honor) who provides the wigs and other supplies. Guests typically dress up in costumes and use wigs to create different looks. Wig parties can be a lot of fun, and they provide an opportunity for everyone to have a good time.
So, round up your bridal party and have a blast at the bachelorette wig party.
Have everyone wear a wig to the party
At the gathering, everyone should don a wig. See who can come up with the most creative style. With all of the different wigs available, there are sure to be some interesting looks.
Take pictures of all of the different hairstyles and have a great time celebrating the upcoming nuptials.
Now that everyone is wearing a wig, it's time to have some fun! Play games, eat food, and dance the night away. Be sure to take lots of pictures so you can look back and remember this hilarious party!
Serve cocktails in plastic cups and crazy straws
Serving cocktails in plastic cups and crazy straws is a way to really get the party started! Get everyone in the mood to let loose and have some fun.
Whether you're serving up mixed drinks, mocktails, shots, or these drink pouches will definitely help get the party started.
Play games like pin the ring on the bride
Games are a fantastic way to keep any bachelorette party interesting.
They can provide a much-needed break from the everyday hustle and bustle of planning a wedding. They're also a great way to get people who may not know each other well to interact and have fun before the big day.
One of the best things about games is that there's such a wide variety to choose from. Whether you're looking for something fast-paced and frantic or something a little more low-key, there's sure to be a game that's perfect for you. And if you're stuck for ideas, why not try some classics like Truth or dare, Pin the ring, Bachelorette Family Feud, or a scavenger hunt?
More game ideas – Amazon Bachelorette Party Games
Everybody knows how to play them, and they're sure to get everybody laughing. So next time you're planning a party, don't forget the games!
Make sure there's lots of food, including finger foods and desserts
Make sure there's plenty of food at the party you can make them yourself, have the bridal party help or plan ahead by ordering a variety of small dishes that everyone will enjoy.
Don't forget to include some sweet treats for dessert! Make sure there's something for everyone to enjoy, and your party will be a success.
Put together a photo booth with props and backdrops
Put together a photo booth with props and backdrops, and don't forget to include some
" target="_blank" rel="noreferrer noopener nofollow sponsored">heart-shaped sunglasses. Your guests will have a blast posing for photos and sharing memories. After the photo booth, make sure to keep the party going with music, dancing, and plenty of champagne. The bride-to-be will have a night she'll never forget!
Play music throughout the night
Playing music throughout the night of your bachelorette party will help keep the energy up and the party going. This is especially important if you're planning on dancing or doing other activities that require a lot of energy.
Playing music will also help to set the mood for the party and get everyone in the right frame of mind to have a good time. If you're not sure what type of music to play, check out our playlist ideas.
Dance to your favorite songs and get the party started!
Crank up the music and let loose – it's time to get the party started!
Dance to your favorite songs and get shaking to some old-school classics or busting a move to today's hottest hits, dancing is sure to get everyone pumped up for a night of celebrating.
Make s'mores
Make s'mores at your bachelorette party because it is a fun, festive, and easy way to celebrate the bride-to-be! So why not add s'mores to your bachelorette party menu?
This is sure to be a hit with all of the ladies!
Colorful wigs for a bachelorette party
1. Colorful wigs for a bachelorette party
No need for a celebrity stylist when you have these amazing bachelorette party wigs! Rock your bachelorette party in style with these fabulous wigs.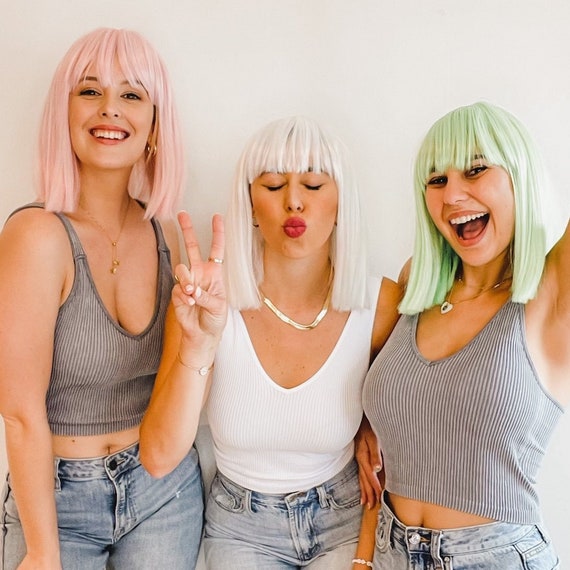 2. Neon wig bachelorette party wigs
Looking for a fun and cheap way to dress up for your bachelorette party? These 6-pack bachelorette party wigs. They're perfect for a night on the town or intimate bachelorette party.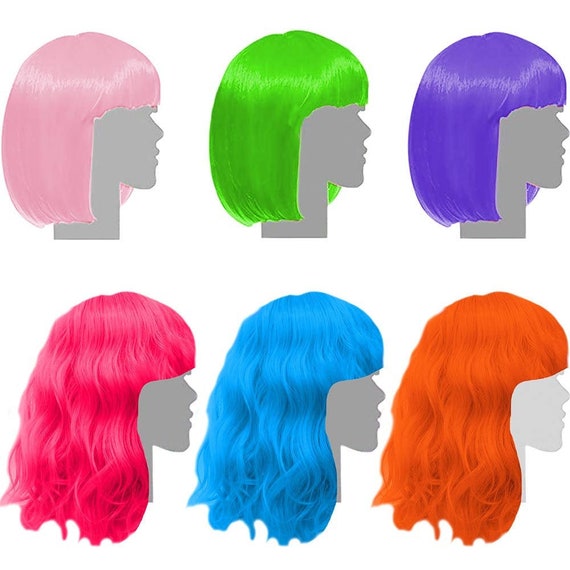 3. Pink wigs for a bachelorette party
This pink wig for a bachelorette party will help you throw a bachelorette party that your guests will never forget! With pink wigs, you can add some fun and color to the event.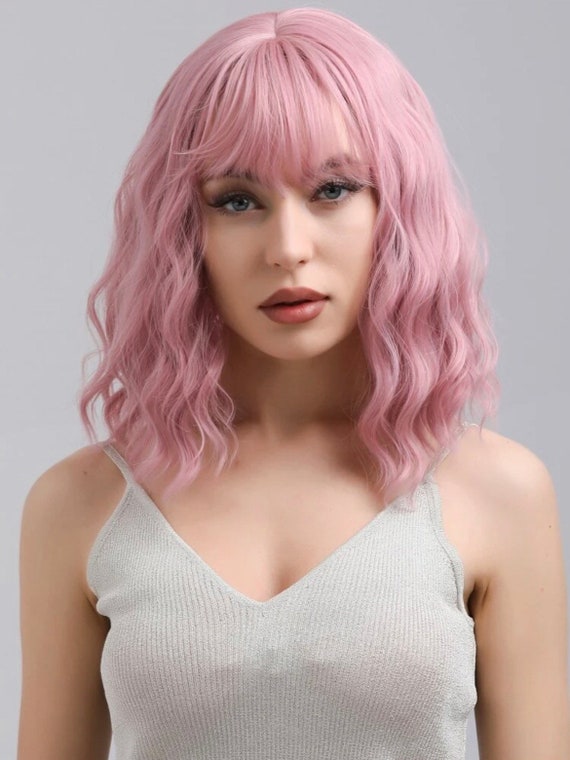 4. Green mid-length curly wigs
Green mid-length curly wigs are great for themed parties.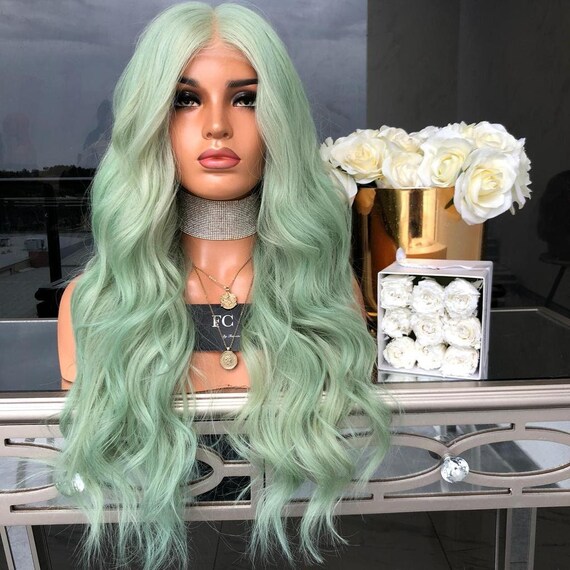 5. Bachelorette party wigs
With just a few other supplies these bachelorette party wigs will have you Instagram ready! So get ready for your last night as a single lady!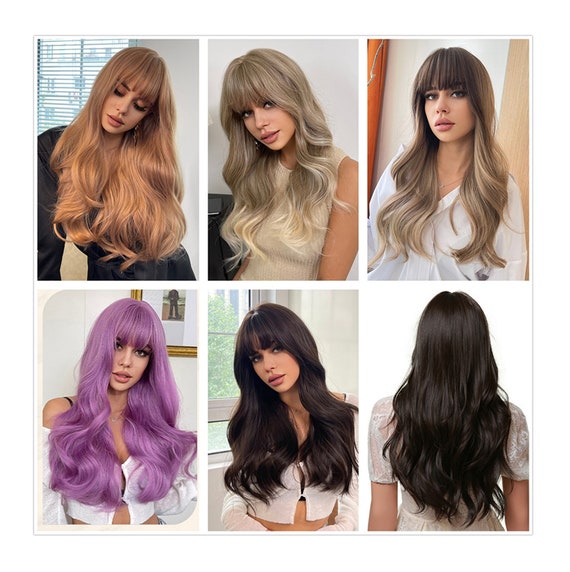 6. Neon pastel bachelorette party wig
This funky neon pastel bachelorette party wig is the perfect way to add some fun and funk to your night out. Whether you're celebrating at a club or bar, or just partying with friends, this wig will make sure you stand out from the crowd.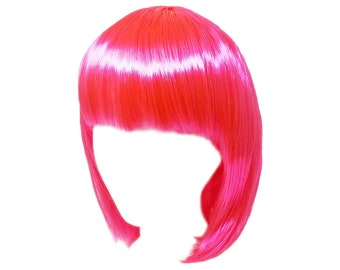 7. Pastel blue bachelorette wig
Pastel blue wig, bachelorette party decorations, wiggin out, birthday party, blue wig hair, ice blue short wig, curtain bang, soft wave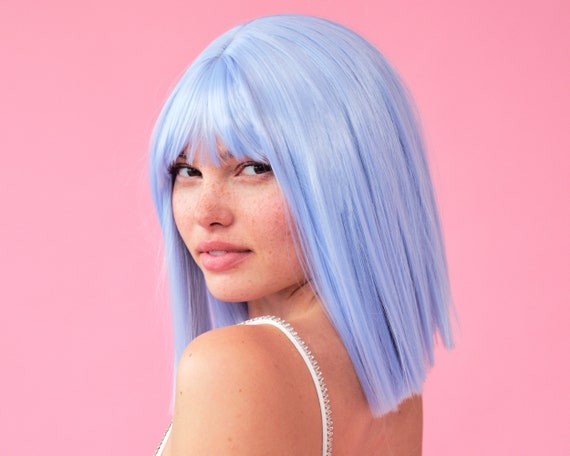 8. Pastel purple bachelorette wig
This pastel purple wig is the perfect way to add some fun and funk to your night out.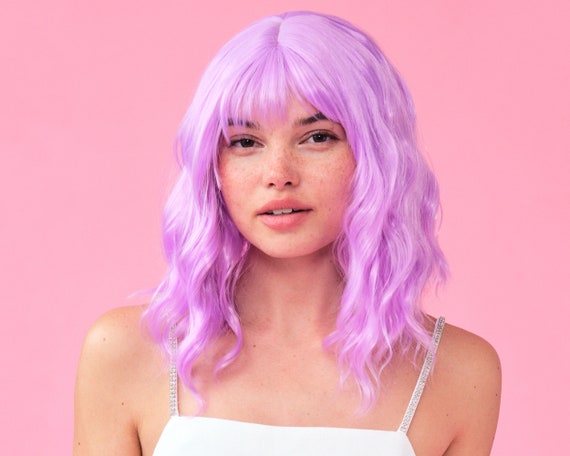 9. Pastel white bachelorette party wig
Party wigs are gaining popularity for bachelorette parties and this neon pastel wig fits the bill. Grab your ruby red lipstick and hit the town.