15 Superhero Party Invites
Are you looking for the perfect party invitation to invite all of your friends to your child's superhero themed party? Look no further! We've got just what you need to get everyone excited for the big day with these superhero party invites!
Personalized digital invitations are easy to download and print out or printable invitations, customizable that they're sure to add some excitement to your child's special day. So check out this adorable downloadable, and printable superhero invitations today and start planning a party that will be remembered for years to come.
See Also
---
---
1. Superhero Birthday Invitations with a superhero theme
Throw your child a birthday party they will never forget! These superhero invitations are the perfect way to start. With bright colors and an exciting theme, these invites are sure to get everyone excited for the big day. Plus, they're easy to make yourself – just download and print!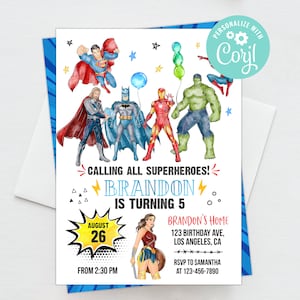 2. Superhero birthday invitation
These adorable comic book like superhero editable birthday party invitations are just what you need to get the party started.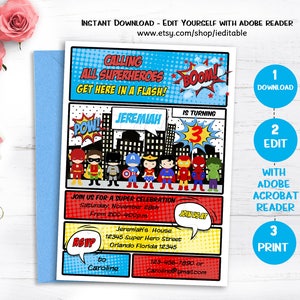 3. Avenger Superhero Birthday Invitation
Featuring Marvel and DC comic book heros, these superhero party invitations will get the action started. Customize them and print these boy birthday party invitations.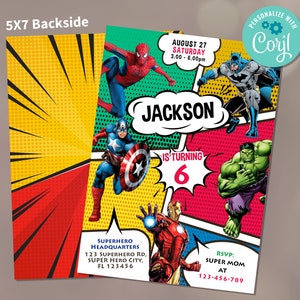 4. Superhero Pool Party Invitations
Splish splash! Get ready for a superhero pool party with this instant download digital or printed invitation! This fun and colorful invitation features a group of superheroes in their bathing suits, ready to take a dip in the pool.
The wording on the invitation can be customized to fit your party theme, and you can even add a photo of the birthday child. Be sure to check out the matching thank you cards, Favor Tags, and other accessories to complete your party look!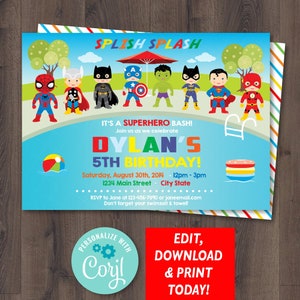 5. Superhero themed birthday invitation
From Batman and Superman to Wonder Woman and Aquaman these super hero themed birthday invitations are a flexible design that can accommodate all your superhero party ideas.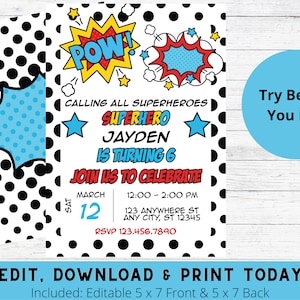 6.Spiderman birthday invitations
These Spiderman birthday party invitations will have the party swinging into action in no time.
You can find an entire collection of Spiderman birthday party invitations for your next party.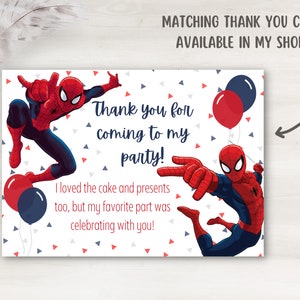 7. SuperHeroes Birthday Invitation
Adorable, these superhero birthday party invitation printables are perfect for your little one!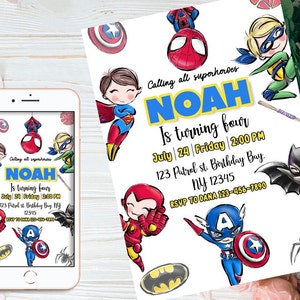 8. Avengers Birthday Invitation
Calling the Avengers, these Avengers birthday invitations are modern and high quality.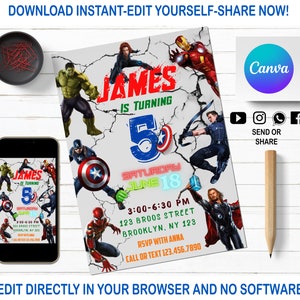 9.Iron Man superhero birthday party invitations
Iron Man superhero birthday party invitations are perfect for your little one's next birthday bash! The printable download can be customized with all the details you need to throw an epic Marvel-themed party, including who's invited, what to wear, and more!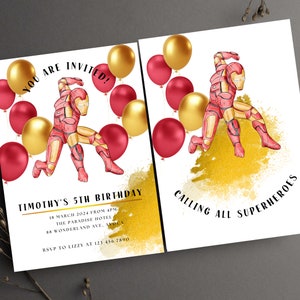 10.Editable Avengers Birthday Invitation
Your child's birthday is coming up and they want an Avengers themed party! But you don't know how to make the invitations. Never fear, because we've got a Avengers birthday invitation printable template for you that is completely editable.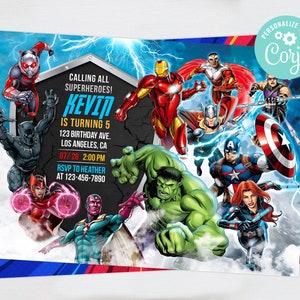 11.Girl Superhero Invitation
Throwing a superhero birthday party for your little girl? This girl superhero invitation is perfect! It's easy to customize, and you can even add your own photos. Send out the invites early so everyone can save the date!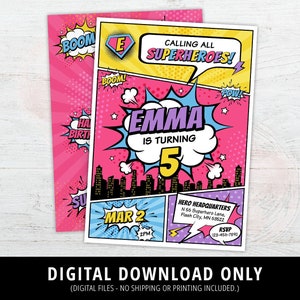 12. Superhero Princess Invitation
It's a Superhero Princess party! This birthday party invitation will get everyone excited for the upcoming bash. Customize with your child's name and the details of the party. You can even choose from several different colors to make it match your theme perfectly.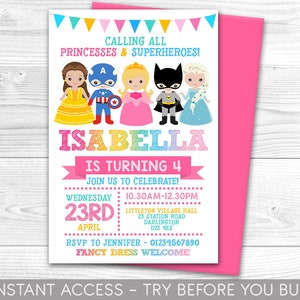 13. Superhero girl party invitations
Planning a Superhero Girl birthday party? These superhero girl party invitations will get everyone excited for the big day! With bright colors and lots of action, these invites are sure to set the mood for an epic celebration.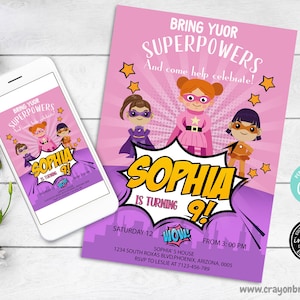 14. Superhero girl invitations
It's a girl! And she's a superhero! Send out this fun and whimsical Superhero girl invitations to your little one's friends and family. With bright colors and an adorable design, this invite is sure to get everyone excited for the big day. Plus, it's easy to customize so you can make it perfect for your unique celebration.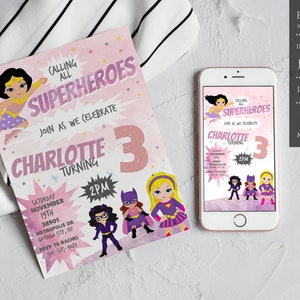 15. Superhero Girls Invitation
Your little girl will love these DC superhero girls birthday invitations. These colorful and fun party invites feature Wonder Woman, Supergirl, Batgirl and more. Perfect for a girls superhero themed birthday party!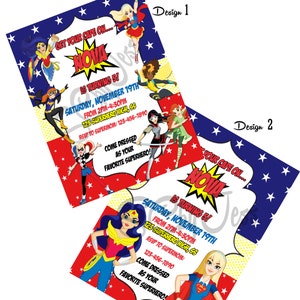 Who wouldn't love a party with their favorite superheroes? If you're looking for a way to make your child's birthday party extra special, consider sending out superhero invitations. There are many different ways to personalize these invites, so be sure to choose the option that best suits your child's personality and interests. With just a little bit of creativity, you can help your child celebrate in style!