17 Superhero Party Ideas That Will Make Kids Smile
Let's admit it: planning superhero party ideas can be a bit of a challenge. That's why we have gathered some of the best superhero theme party ideas for you on in one place so you can focus on throwing the coolest kid parties ever. Once you read the tips and ideas in this article, your next party will be an epic event!
See Also
---
---
Find the right venue
Superhero parties can take place in a variety of venues like indoor play spaces, outdoor parks, or at home. The trick is to find a venue that will work with your party's theme and fit your budget. Play spaces are becoming more and more popular as places for hosting parties. Indoor playgrounds make a fantastic venue for superhero parties because of their wide range of party activities for young and old alike. If you choose to hold your party in an indoor play space, you can dress up the venue in any theme you choose.
If you choose to have your party at home, you'll have to be a bit more creative with your theming. Just remember that you can always create a super theme with everyday items.
Decide on your theme and color scheme
When deciding on your party theme, think about who is coming to the party. If you're having a joint party for all the kids in your neighborhood, it's a good idea to pick a theme that doesn't have a ton of restrictions. If you're planning a party for your child's friends, on the other hand, it's a good idea to pick a theme that's more specific, like superheroes. After deciding on your theme, the next step is to decide on your color scheme.
Some great color schemes for a superhero theme include red, gold and blue; black, purple and silver; and (for younger kids) pink and yellow. When picking your party colors, don't forget to consider the color of your invitations. If you're having your invitations professionally printed, it's a good idea to discuss your color scheme with the designer so they can make sure the card's design works with your party theme.
Don't forget the superhero accessories!
From favor bags to superhero birthday party decorations, every party needs its accessories. You can make your own superhero accessories, or you can buy them online. Here are a few ideas to get you started.
Superhero cape
Customizable superhero cape is adorable and we love the velcro safety snap!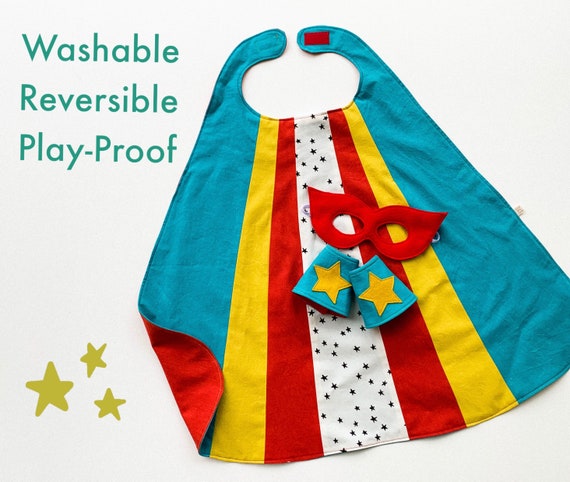 There are lots of great party favor ideas for superhero parties. One idea is to ask the guests to bring some of their favorite comic books. Then you can re-sell them online. Here are a few other ideas: diy superhero party decorations don't just have to be based on the theme. They can also help set the mood at the party. If you're hosting your party outside, you can create a super outdoor theme with these easy decorations: You can also make your centerpiece a focal point of your theme. Try using comic book pages as a table centerpiece.
Keep things easy for parents and provide child care
Asking parents to travel long distances with very young children is an invitation for problems. So try and make it easy for them to get to your house, and have a plan for child care if they have very young ones. If you don't have kids of your own at home, or you don't know any child care providers, you can ask your guests to help. Before the party, send an email to your guests and ask them to volunteer to help with child care during the party. You might want to offer them a small token of your appreciation, like a gift card.
Hire a professional photographer
If you want your superhero party to be the talk of the town, you'll want to hire a professional photographer. You can have the photographer come to your party, or you can hire them to come to the party and then come to your house afterwards. You can have the photographer do a variety of shots, from group shots to individual shots. If you have very young children, you might want to hire a photographer that specializes in kids.
A professional photographer can take amazing pictures of your kids and create memories for them that will last a lifetime. You can also hire a photographer to take pictures at your house before or after the party to capture more candid shots.
Superhero photo skyline backdrop
Once you hire your photographer or snag a parent or older teen to help you out…this superhero backdrop is perfect for your photos!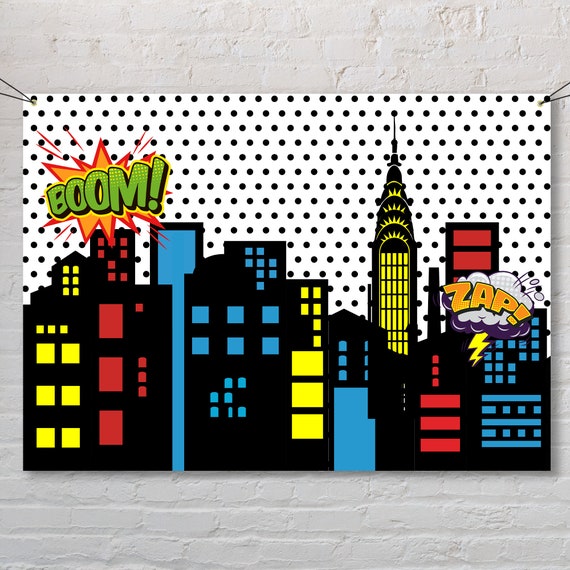 Food is part of the theme too
When it comes to themed parties, the food can often be overlooked. But when you're planning a superhero themed birthday party, the food isn't something you can overlook! In fact, the food should be considered an important part of the theme. You can use many of the same elements you used in your party decor to help plan your food menu.
For example, you can serve gold-colored whipped cream and biscuits and top with strawberries, or black-colored ice cream. You can also use your food menu to tie in other elements from your party, like your invitations or decorations. You can also use superhero party food ideas to help create the fun party atmosphere.
Superhero party cake edible cake wrap
If you want to order a storebought cake or make one homemade and jazz it up a bit, you can with this superhero themed edible cake wrap. It simply wraps around the cake and then slice as normal and eat.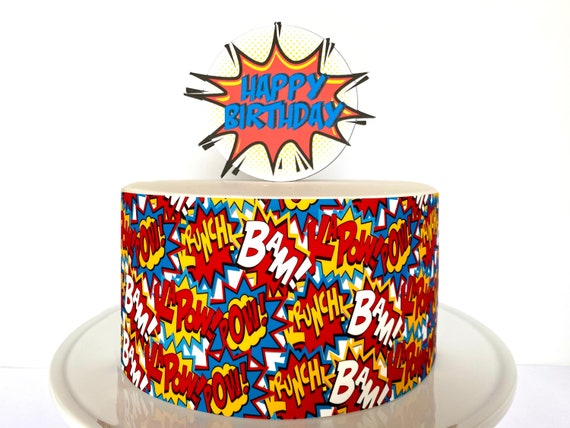 Check out more Superhero Party Cake Ideas
Decorate with props
Superheroes are all about getting creative, about thinking outside the box. This should go for your party decorations as well. Here are a few ideas to get you started: You can use these props to help theme your party. You can also use them to help guests have fun at the party. You can have your superhero guests sign a giant comic book or have them use bubbles to create a unique photo op.
Superhero table decorations
Superhero party table setting (printable)
Want to do a diy superhero party? Check out these printable superhero party table settings.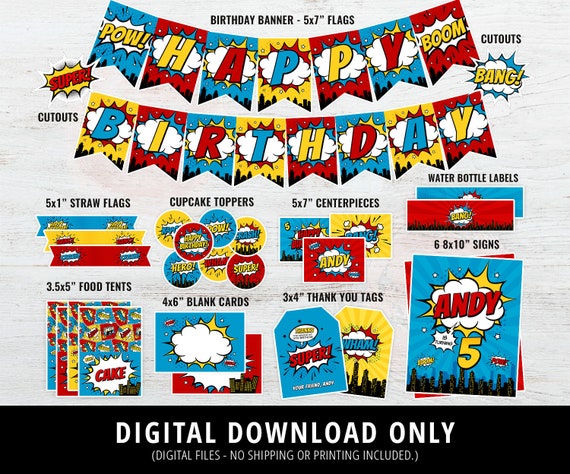 Superhero plates for cakes
Small cake plates are often easier for the kids to move around not make too big of a mess if they decide to be little helpers. We all know what can happen to the floor with helpers with plates that are too big.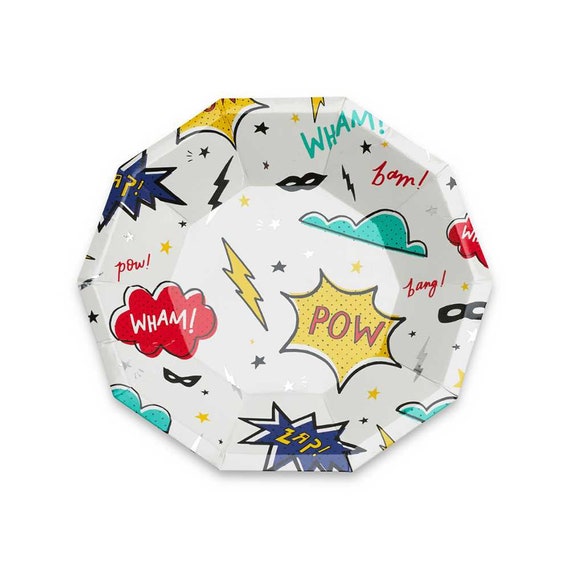 Superhero party in a box
A " target="_blank" rel="noreferrer noopener nofollow sponsored">party in a box is always helpful.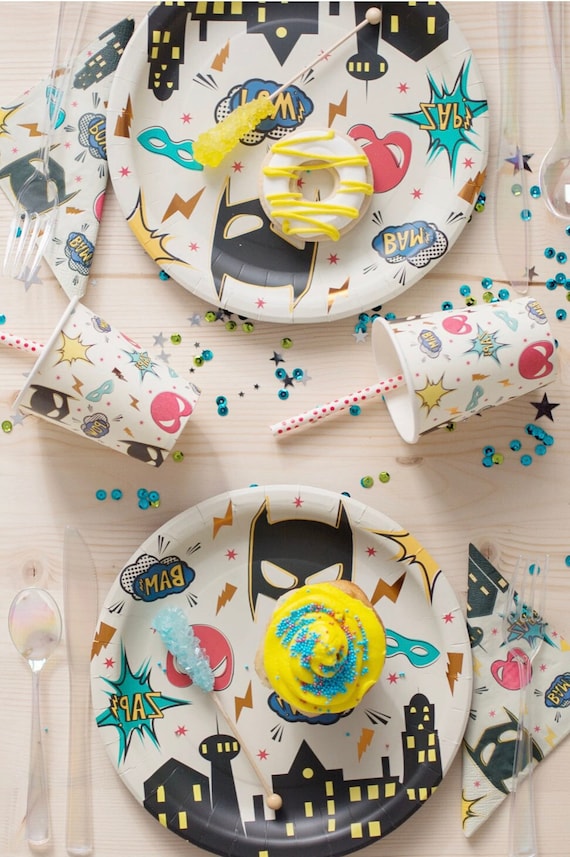 Superhero party cups
These superhero party cups are great for small kids of all ages. And the lid helps to prevent those tiny messes.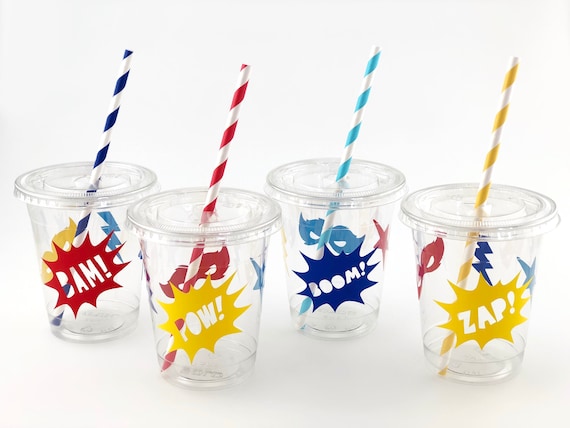 Gifts sign
Need a place to direct the partygoers so they don't have to carry all those heavy gifts around? Grab this cute printable superhero boom zap gifts sign.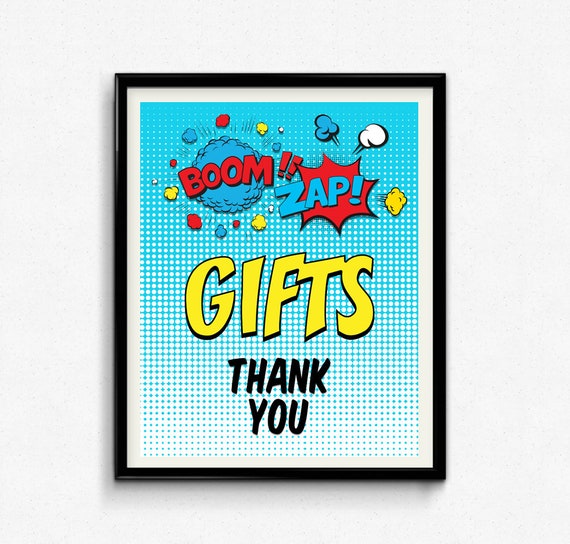 Caped crusaders cape pick up
Having a pick up station for all the supermoms and superdads to go to have their superheros in training go to pick up their capes is essential.
This adorable superhero table sign is perfect to set on the party table.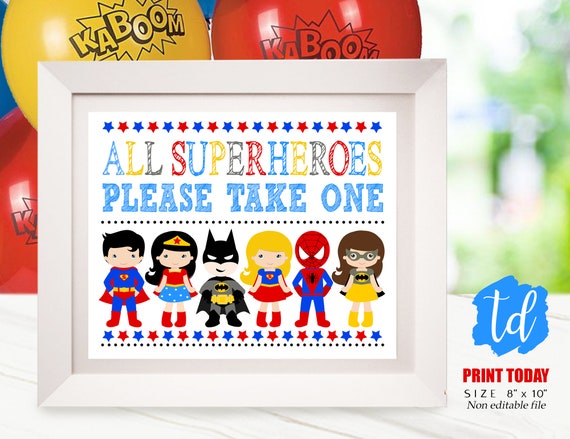 Superhero party punch sign
This superhero punch sign will be the hit of the party.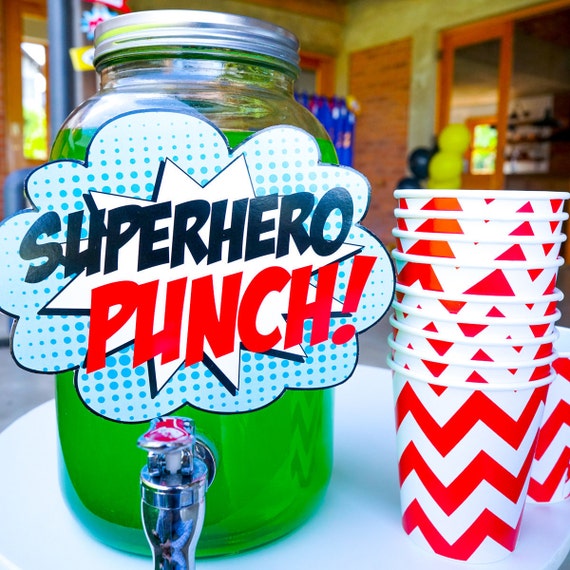 Superhero party signs
Show the guests exactly where they need to suit up with this superhero party yard sign.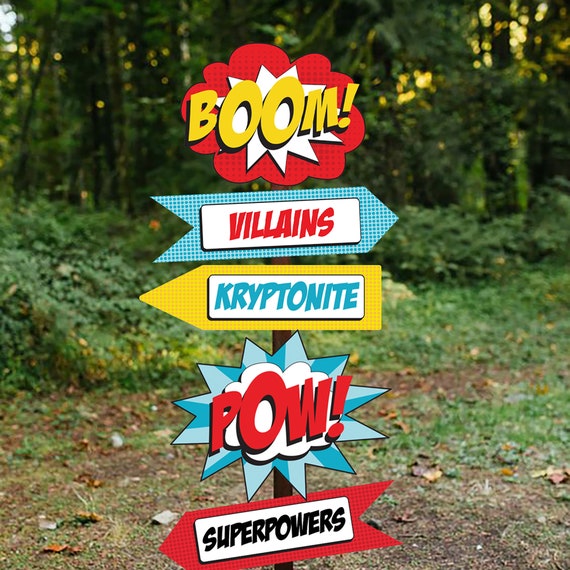 Decorating isn't just about theming
Decorating with themed elements is great, but it's not all you can do to make your party super. You can also decorate in other ways, like adding lighting. At night, you can string up some party lights or table lamps to make your party space more festive.
You can also use lighting to create a fun theming effect. For example, you can use colored lights to make your house look like the bat cave.
Confetti cannons and balloon drops
Having a superhero party doesn't mean you have to spend a ton of money. There are lots of super easy ways to make your party extra special on a budget. For example, you can make use of confetti cannons or balloon drops.
You can make these special additions to your party pretty cheaply. You can also use these items to help make your party more interactive. For example, you can have everyone in the party throw confetti when a guest makes a super achievement.
Don't forget the games!
Kids love games, and you can make your party even more fun by incorporating games into your party. You can use games to help your kids get to know each other. You can also use games to help your kids get their energy out. Here are a few ideas for game themes:
Games are also a great way to help the kids learn something. For example, you can host a trivia game where guests have to answer questions about your child. You can also use games to help teach your kids about superpowers, like a game where they use their powers to solve puzzles.
Superhero certificate of completion
Be sure to send them this adorable printable superhero certificate along with your thank you notes.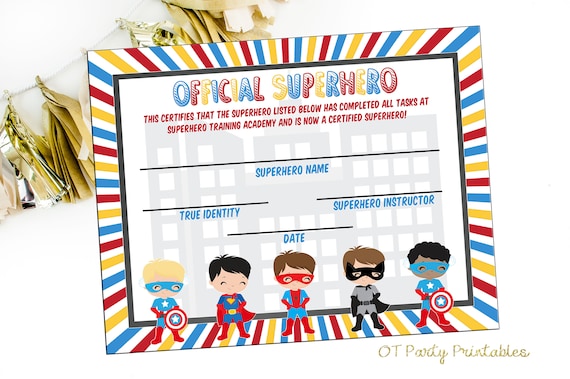 Printable Invite and Thank You Notes
At the end of the party, you'll need to send out invites and thank you notes. You can use a themed design for these items or use personalized superhero thank you notes. Make sure that you have plenty of time to order, receive and then write the notes before the party.
At the end of the party, you'll need to send out invites and thank you notes. You can use a themed design for these items or use personalized stationary. Make sure that you have plenty of time to order, receive and then write the notes before the party. Be sure to let your guests know about any kid-friendly after-party plans, like a sleepover or cupcakes at a nearby diner.
When you're throwing a superhero party for your kid and their friends, you want to make sure that you throw the most epic party ever! These ideas will help you do just that. Now all you need to do is pick a theme, invite your guests and get ready to host the