15 Super Comfy Bridesmaid Pajamas They'll Wear Again And Again
These bridesmaid PJs are super cute, ready for photos, and not cheesy so your crew will wear them again and again!
See Also
---
---
1. Long Sleeve Pajamas Set, Bridesmaid Pajamas, Long Sleeve Pajama Set, Long Sleeve Bridesmaid Pajama Set, Long Pants Pajama Pajamas Set
We love inclusivity! And these bridesmaid pajamas are just that.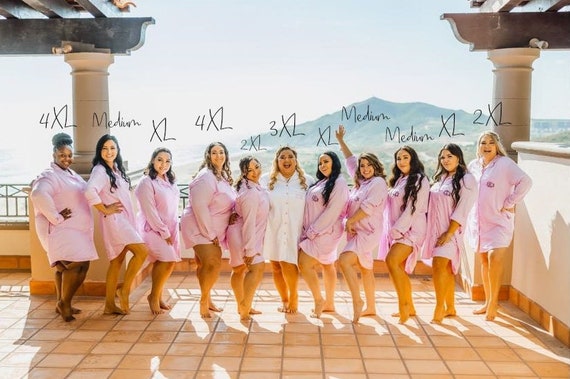 2. Monogrammed cotton pajamas
Monogrammed bridesmaid pjs for those I do crew members that were there before and will be there after.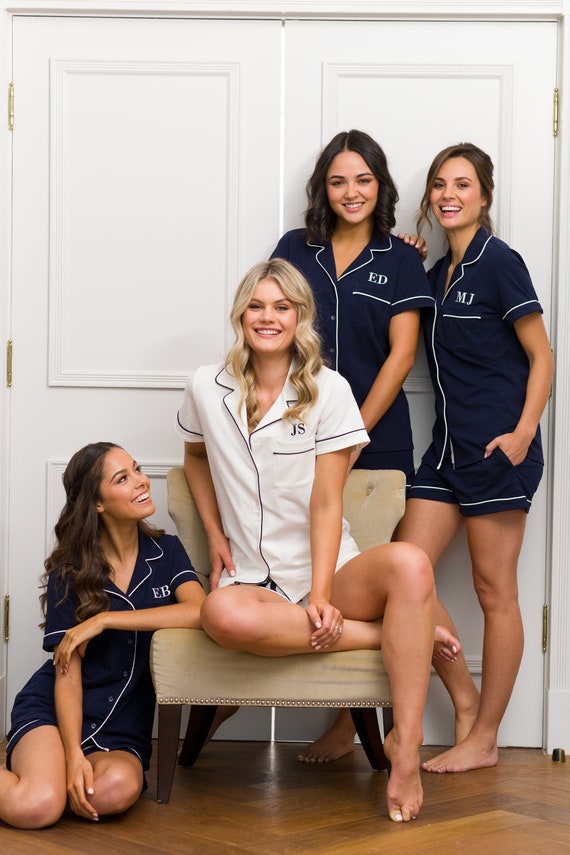 3. Custom satin bridesmaids pajamas
These custom satin bridesmaids pajamas are beautiful and elegant. Choose the color that fits your wedding theme.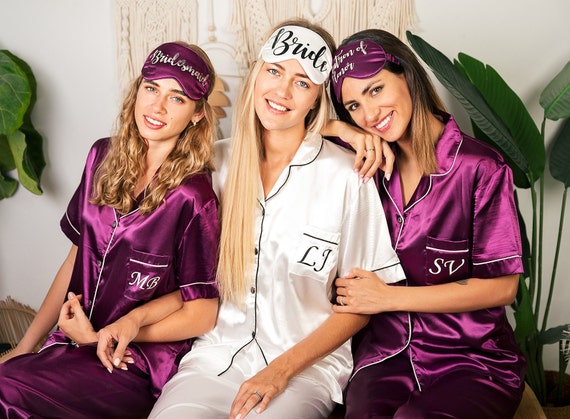 4. Soft bridesmaid pajamas
Made of the softest fabric you will ever touch these bridesmaid pajamas are classy and stylish . They are perfect for those chilly winter weddings, or for just lounging around the house.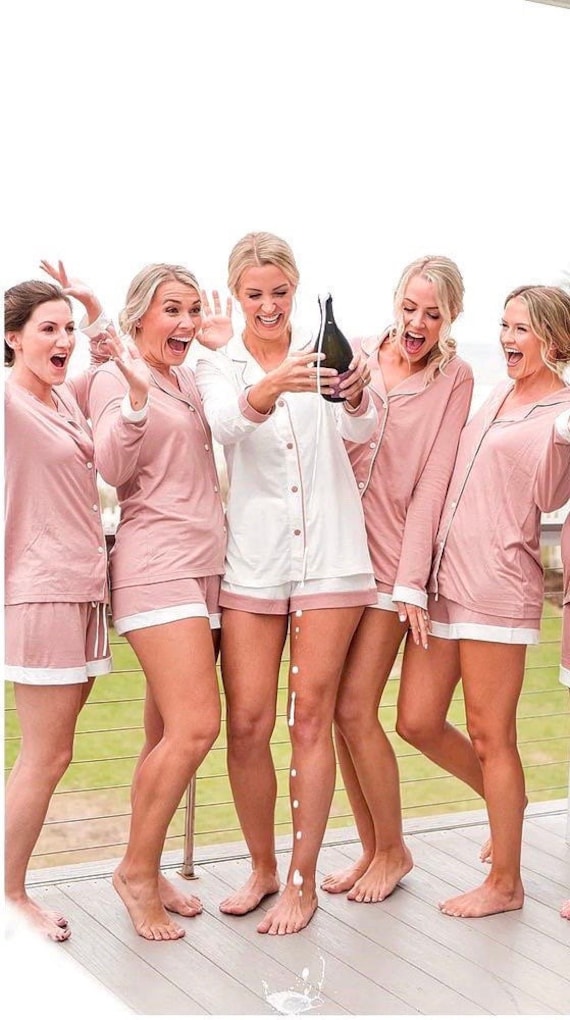 5. Personalized bridesmaid bridal party PJs
Both unique and special gifts for your bridesmaids these personalized bridal party pajamas are made from luxurious satin or silk. Personalize them with your bridesmaid's name or initials.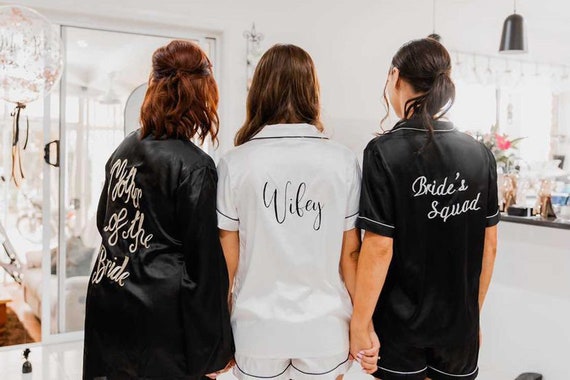 6. Bridal party pjs, bridesmaids gift
This would make an adorable bridesmaids' gift! The set includes a satin tank top and ruffled shorts. It's perfect for lounging around on your wedding day or for wearing after the big celebration is over.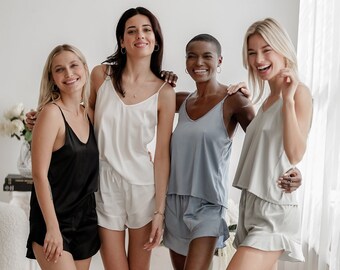 7. Floral and fabulous bridal pjs
These feminine floral bridal pjs are just fabulous.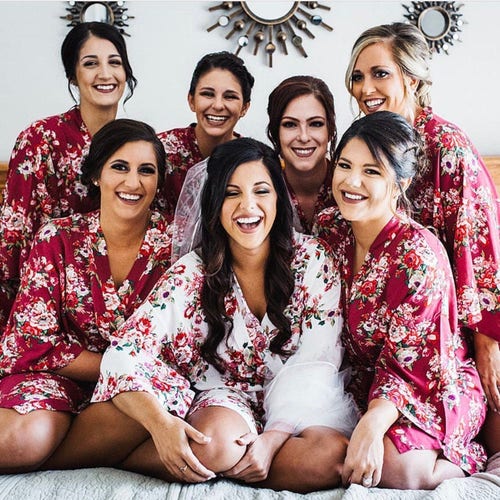 8. Comfy bridesmaid pajamas
If you have a bridal party of 7 or 8 and want to get them all matching pajamas, we've got you covered! These comfy bridesmaid pajama sets are made of 100% cotton and available in a wide range of colors.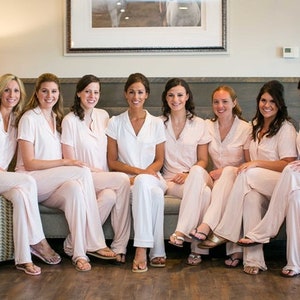 9. Bridesmaid pajamas set
These personalized monogrammed getting-ready outfits are something you know the crew will enjoy for years to come.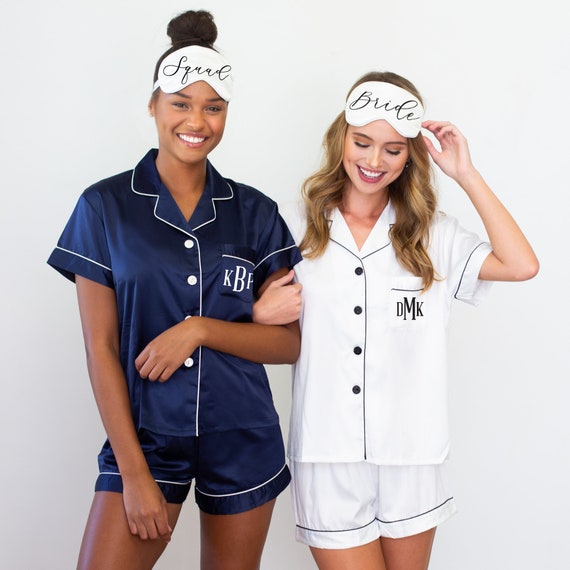 10. Reverse tie dye bridesmaid pajamas
For the fun-loving crew, these reverse tie dye pj sets are perfect!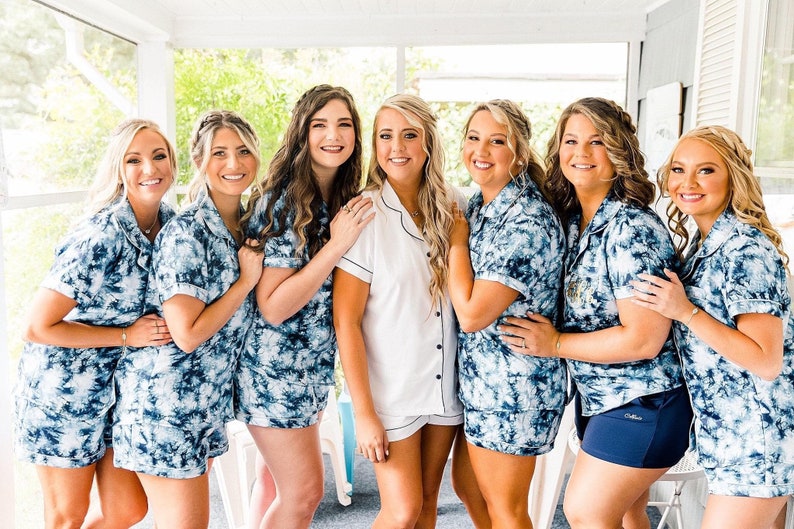 11. Grey plaid bridesmaid pajamas
Fun and unique these grey plaid bridesmaid pajamas are comfortable and stylish.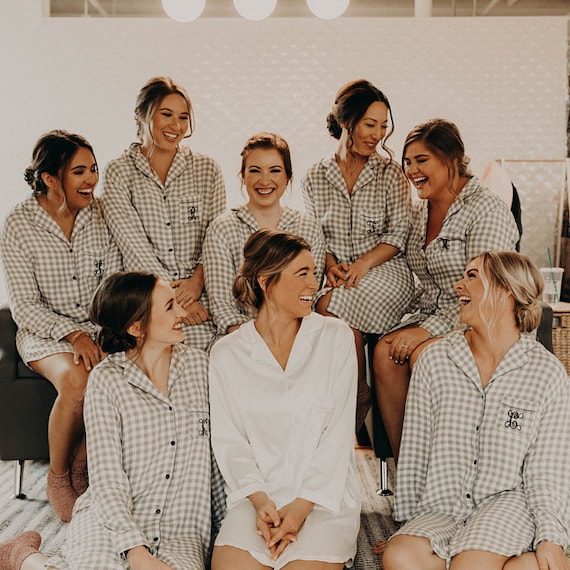 12. Pink bridesmaid pyjamas
It's not just Wednesdays. We were pink anytime we feel like it. And these pink pajamas will have all the girls in your party turn from mean to the queen.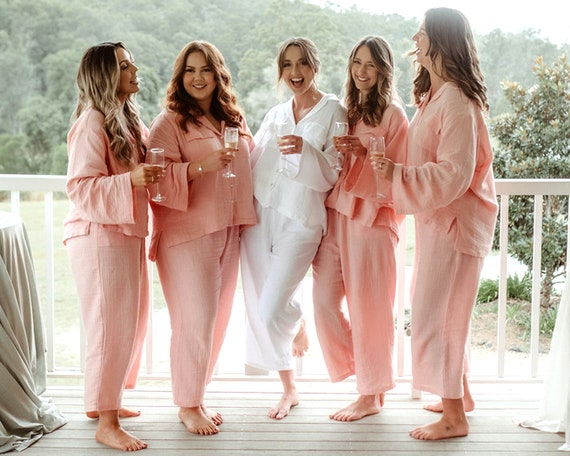 13. Sage sleep shirt bridesmaid pajamas
Comfy, oversized and ready for a night full of laughs and tears, these sage sleep shirt bridesmaid pajamas are great!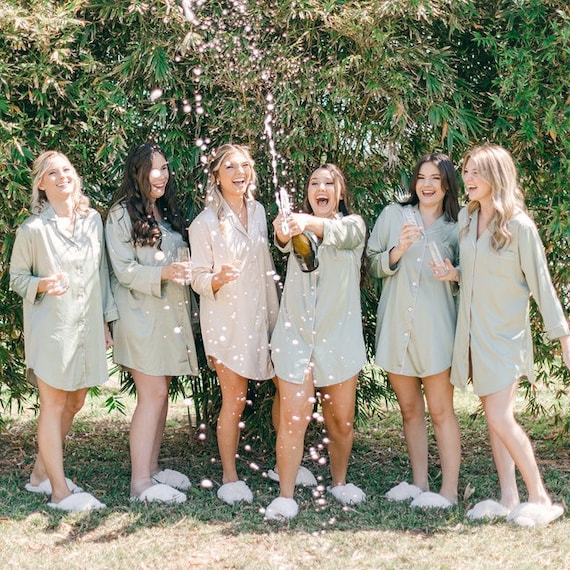 14. Satin wedding party personalized pajamas
These satin wedding party pajamas are easy to personalize and great to reminisce.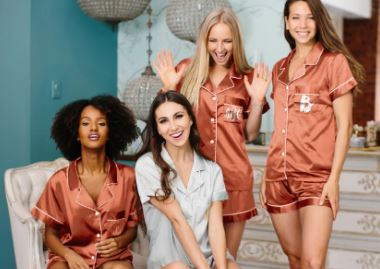 15. Linen lounge wear bridesmaid pajamas set
This linen loungewear bridesmaid pajama set is comfortable and stylish.